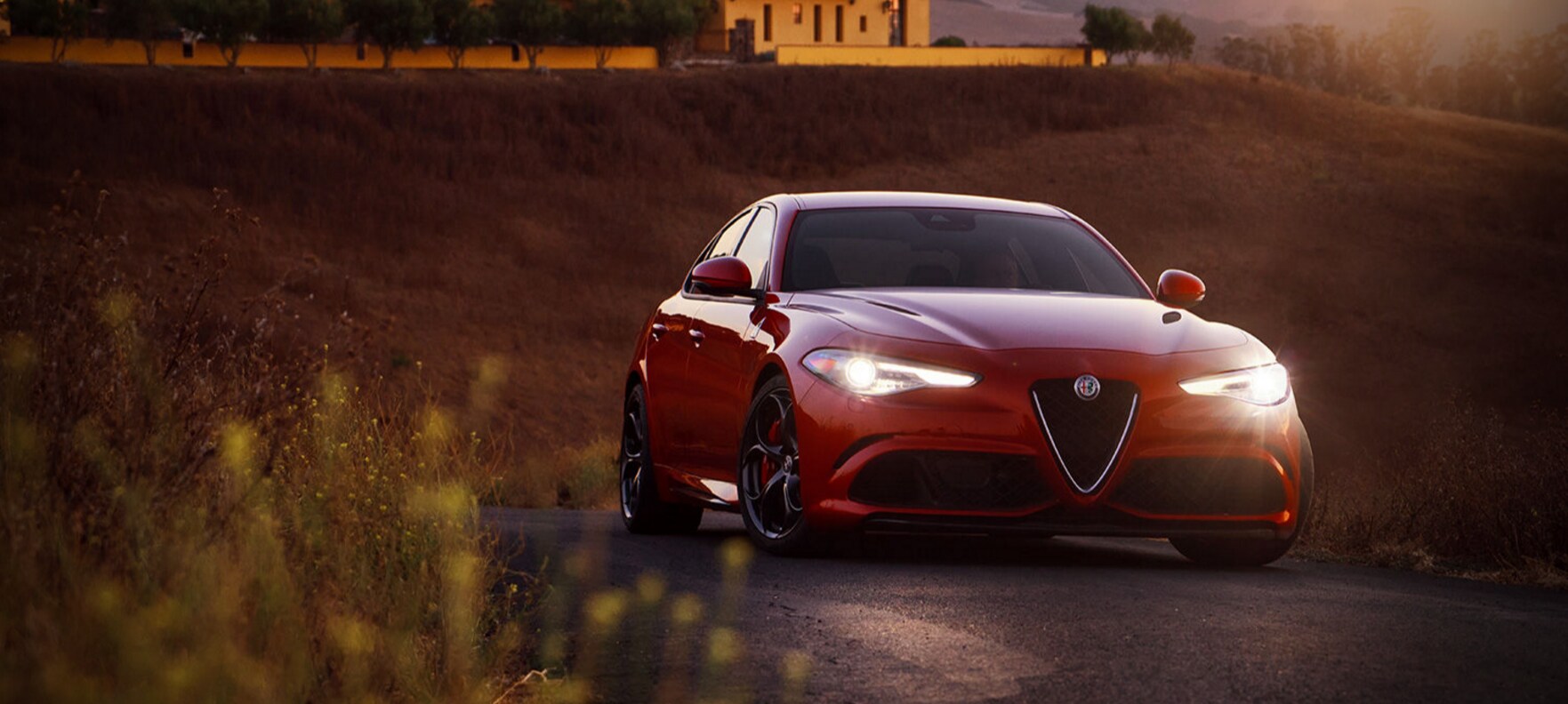 After a long wait, Alfa Romeo has finally re-entered the American luxury sedan market with the 2017 Giulia Quadrifoglio and it's doing so to a great deal of praise. It's up against some heavyweights including impressive vehicles from BMW, Mercedes and Audi, but the Giulia already is drawing a lot of attention as a tough contender among luxury sedans.
Recently, a Los Angeles Times review of the Giulia Quadrifoglio highlighted the vehicle's affordability and performance. Because the Giulia combines aggressive performance with a beautiful exterior, the Times recently called the luxury sedan a "wolf in sheep's clothing," and we're going to have to agree.
The 2017 Giulia shapes up nicely in the Luxury Sedan Segment 
The Giulia's exterior has all the elements of an Italian thoroughbred and inside, you'll find carbon fiber that reduces weight and adds a touch of style. Flushing out the fit and functional interior are racing seats and chrome accents that help make the Giulia an attractive and limber performance car. The Giulia is "fast on its feet, plush in its feel," according to the review.
Beneath the hood there's a 505-horsepower 2.9-liter twin-turbo V6 engine with eight-speed transmission that delivers 443 lb.-ft. of torque. The Giulia Quadrifoglio has enormous power that sees it blast from 0-60 mph in just 3.8 seconds up to a staggering 191 mph top speed!
"It's a great combination. The acceleration is aggressive. The eight-speed transmission is snappy. The suspension is tight. The rear-wheel drive configuration feels a little old fashioned and a little scary - like this is a Corvette's crazy Italian cousin, come to visit and freak everyone out," Times reviewer Charles Fleming wrote.
This is a driver's car through and through with all the elegance of a luxury sedan with a powerhouse under the hood. This is a super-sophisticated sedan that exudes quality and luxury and is definitely set to take on others in the class.
You have to take the 2017 Alfa Romeo Giulia Quadrifoglio out on the road to fully appreciate the luxurious quality of this Italian thoroughbred. At Yark Alfa Romeo, you'll find the Alfa Romeo Giulia for sale in Ohio, near Perrysburg, OH. We are a first class Alfa Romeo dealership with a broad inventory of models for you to choose from. If you're looking to buy an Alfa Romeo Giulia in Ohio, come down and see us at Yark Alfa Romeo for a test drive today!