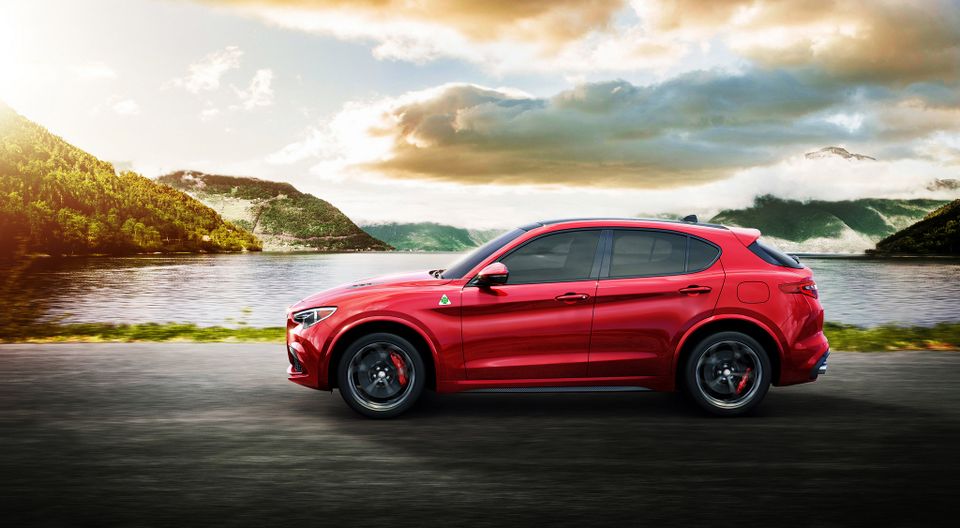 Luxury Italian cars are perennially popular because of their beautiful styling and the nation's history of churning out world-class sports cars. For many, an Italian car still seems out of the realm of affordability, but with Alfa Romeo's growing foothold in the States that may be about to change. In line with other brands' forays into the crossover sector, Alfa Romeo has just unveiled its own contribution with the 2018 Alfa Romeo Stelvio.
The First Italian Entry in the Popular Crossover Class
The Stelvio is Alfa Romeo's first-ever crossover model and is named after the Italian mountain pass that is famously one of the best roads to drive on in Europe. The Stelvio has all the styling one would expect from Alfa Romeo, looking equally cool both outside and in. It's lightweight for its class due to the use of aluminum for the doors, fenders, front and rear subframes, brake calipers and shock towers. There are other features designed to reduce weight including parts of the rear crossmember that are molded from composite materials.
The powertrain is where the real story is with the 2018 Alfa Romeo Stelvio, and both the basic model and the Ti have direct-injected 2-liter four-cylinder engines powering 280 horsepower and 306 lb.-ft. of torque. The supercharged Quadrifoglio version of the Stelvio will do 0-60 mph in just 3.9 seconds with a top speed of 177 mph which is even faster than a Ford Mustang GT.
There's eight-speed automatic transmission to back up both engine sizes, sending power to all four wheels. With curvaceous lines typical of the Alfa brand, the new Italian SUV is set to become one of the most popular models in its class. There are 13 colors from which to choose, and with stellar features and performance, the 2018 Alfa Romeo Stelvio will be a worthy competitor to others in the SUV class.
Be First to See the All-New SUV from Alfa Romeo
At Yark Alfa Romeo we have an extensive range of new and previously owned Alfa Romeo vehicles for sale in Toledo, OH. You can see for yourself just how stunning the new Stelvio is and how practical it will be as a family vehicle. To learn more about current and upcoming Alfa Romeo models, come to Yark Alfa Romeo of Toledo, OH, talk to our staff and take a test drive today!