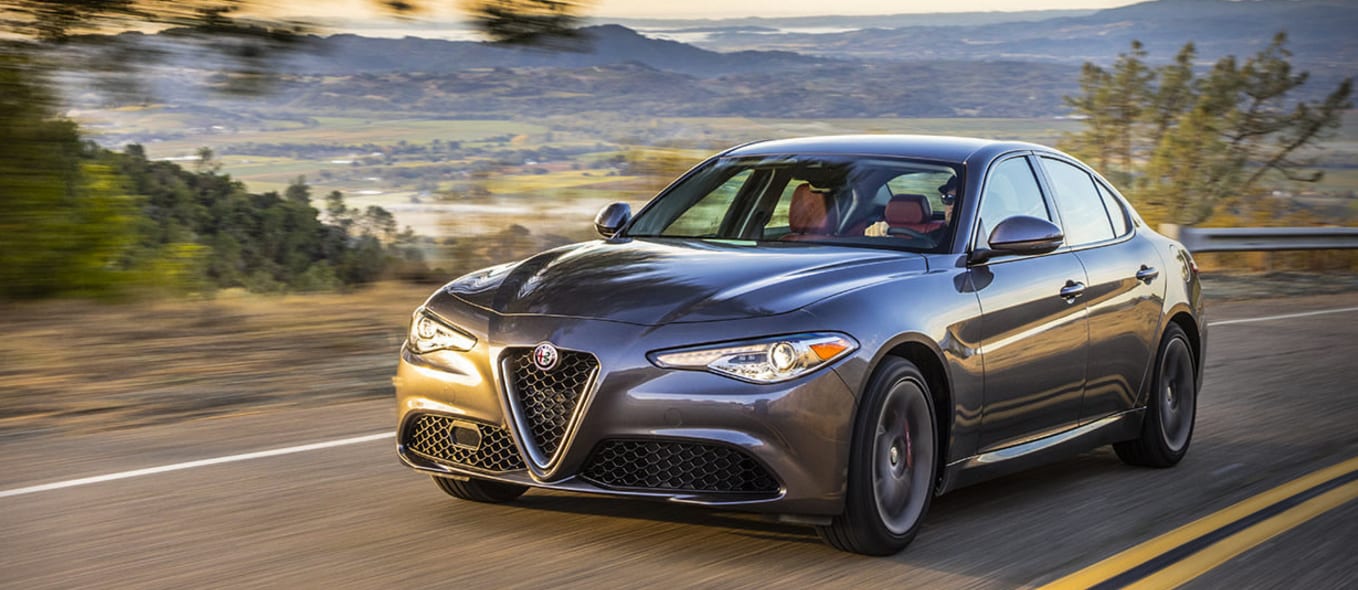 If there is one thing the compact sport sedan segment has been missing in recent years, it's been some Italian flair and passion -- especially in the US. Sure, German car companies have honed their craft to an exacting standard. They build solid, reliable, and competent cars. But they seem to lack that little something. The little thing that makes you take another look over your shoulder after parking. That stirring sensation that gets under your skin and makes you crave another drive. Fortunately, the Alfa Romeo Giulia sport sedan is now available in the US. It's so good, in fact, that Motor Trend placed it first in a comparison of other similarly priced and equipped compact sports sedans. Pitted against the likes of Lexus, BMW, Audi, and Mercedes, the Alfa Romeo's combination of style and substance won out.
Motor Trend's reviewers compared nine cars: the Alfa Romeo Giulia, Audi A4 2.0TQuattro, BMW 330i, Cadillac ATS 2.0T, Jaguar XE 25t, Lexus IS 200t F Sport, Mercedes-Benz C300 and Volvo S60 T6 R-Design. The cars were meticulously weighed against one another in categories including performance, safety, cost of ownership and value. Ultimately, Motor Trend awarded a first-place finish to the Italian newcomer, saying the Giulia is "efficient, economical, quick, safe and without question the most fun to drive." Still not convinced? Come see the Giulia for yourself at Alfa Romeo of Toledo in Toledo,OH!
What Makes the Alfa Special
The Alfa Romeo Giulia for sale today stands out with a beautiful design. It's lean and athletic looking. The traditional Alfa Romeo Trilobe grill is prominent up front. Flanked by two large intakes, and aggressive headlights with LED daytime running lights, the Giulia looks ready to devour the road - and it is. In back, impressive, muscular flares envelop the rear wheels. LED taillights and dual exhaust give a sporty appearance. Powering the Alfa Romeo Giulia in Ohio is a turbocharged 2-liter four-cylinder engine. It spins out 280 horsepower and 306 lb.-ft. of torque. A quick shifting eight-speed automatic delivers the power to the rear wheels through a class-exclusive carbon fiber drive shaft.
If you want some Italian zest in your daily commute, stop in to Alfa Romeo of Toledo and test drive the all-new Giulia. Our Alfa Romeo Giulia inventory is stocked so you can explore the various options and color combinations. For the Alfa Romeo Giulia to enter a competitive field and be awarded first place by Motor Trend is a big deal. Alfa Romeo is taking the new Giulia very seriously and wants to prove it belongs among the best compact sports sedan in the market. It's off to a great start. Come and check one outtoday.